The People's Suking Tindahan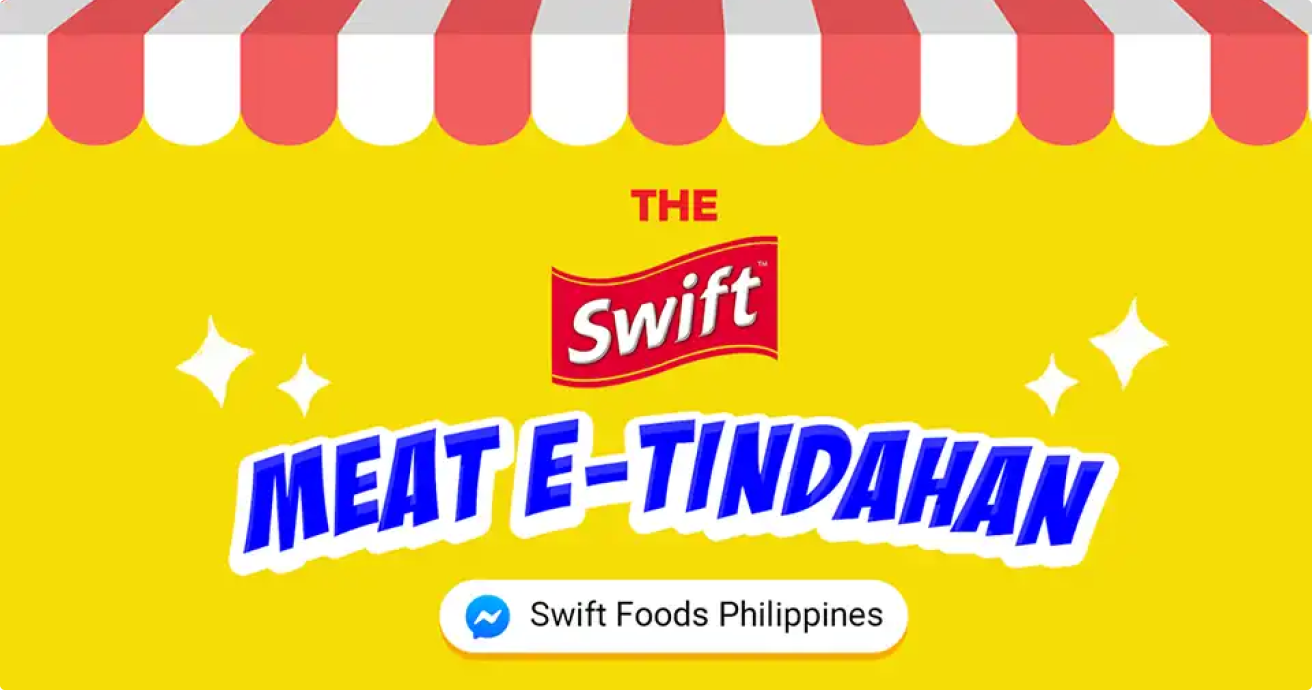 CHALLENGE
Life in lockdown was unprecedented. In 2020, the economic decline was anticipated to hit -3.4%, obliterating any optimistic forecasts. In a tropical country, meat is highly perishable. Shoppers want to be assured that their meat is fresh, hence, they buy it as close to the source as possible.

Prior to the pandemic, bigger brands had been able to muscle out Swift's frozen meats in supermarkets, which only magnified how crucial community wet markets were to Swift's sales. The market stall vendors, aka the "suki", had long functioned as Swift's most effective brand ambassadors, on ground. For customers, the suki was their trusted source. When the lockdown was imposed in March 2020, Swift's sales froze, but with P1 million worth inventory abruptly put at risk, it all had to move — fast.
SOLUTION
The strategy was to create an e-commerce platform that emulated the cultural nuance of the SUKI: using conversations with customers to drive conversion and business continuity. As the pandemic's escalation was global, Swift bet big on social. It was where the world resurfaced, and there, commerce immediately accelerated. Swift was one of the very few early adopters.

Swift executed a local market suki-influenced tech solution through Facebook Messenger — the country's most popular and most used messaging platform. Meat E-Tindahan is a chatbot-driven e-commerce platform housed in Swift's Facebook page. Meat E-Tindahan proved to be capable of carrying out personable interaction, while being even more efficient in closing sales during the quarantine and lockdown. The whole platform was developed and deployed within two weeks of the lockdown in the Philippines (March 2020). Instantly, it became the channel of choice for customers to seamlessly and conveniently inquire, order, pay, and get updates on delivery.
IMPACT
Swift's pivot, not only created a new revenue stream, but it became its strongest performing channel ever. It allowed Swift to move perishable inventory, while maintaining the delivery of quality products. Swift sold out Php 1million worth of inventory — in 14 days.

Total business even grew by 39% in May 2020, driven by a remarkable increase in basket size of approximately Php 1,100, when individual products are priced within Php50 to Php100 pesos only. Through the campaign, Swift recorded an average month on month growth of transaction count at 127% and an average month on month growth of customer base at 138% immediately after launch.

The average conversion rate of almost 60% proved to be positively unprecedented. It also enabled Swift to enjoy an unprecedented rate of engagement with its audiences and customers. Swift's pivot proved successful, pandemic or otherwise.